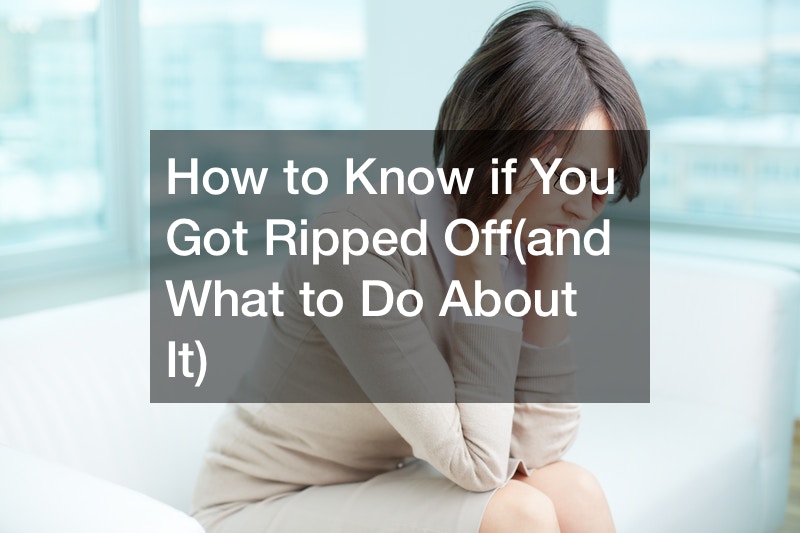 Being ripped off is not a new phenomenon. If anything, scammers continue to devise sophisticated schemes to dig deeper into your pockets. Money matters are complicated; negligence can cost you your entire life savings. Con artists work around the clock devising devious schemes that will help them gain access to your personal information, ultimately ripping you off. Have you been ripped off before? What did you do about it? Where did you report the matter? Discover tips on what to do when you are ripped off below.
Be Careful
It would be best if you took as much time as you need when making any purchase, let no one rush you. A sales representative is likely to compel and harass you to buy a particular product for their own selfish and personal gains. Impulsive buying of products deters you from comparing prices. Besides, if their offer is as great as they claim, they would not pressure you to immediately buy or use their services. Instead, this tricks you into buying something that you probably do not need on a whim by placing a time stamp on the deal or offer. For instance, you may be compelled to buy electronic cigs. Cigarettes are high in nicotine; prolonged smoking may lead to the discolouration of your teeth. Ultimately, you will end up going for orthodontic treatments. Sales representatives omit this kind of information because of the effect it will have on their sales. They also place unique selling points such as discounts and offers on the product to compel you further into purchasing the product. Therefore, you should get as much information as possible about the product before buying it.
Question Everything
Money matters are susceptible. Therefore, being uptight and extremely inquisitive will chase away scammers, thus protecting you from any rip-offs and scams. Do not leave anything to chance. Furthermore, you should report any suspicious phone calls, email offers, links, and mail solicitations as a precautionary measure. Con artists have perfected the art of tricking and ripping people off by making their schemes seem and sound authentic. Con artists invest heavily in their strategies, which is why they doctor logos and fake testimonials. The moment you let your guard down, you have already turned into a victim, yet another casualty and statistic to their evil schemes.
Besides, it will cost you nothing to hold out a little bit longer. This provides you with adequate time to conduct due diligence. Due diligence allows you to sieve out the chuff, ultimately saving you a lot of money in the long run. Subtly, running a quick web search on your phone helps you to make better purchase and investment decisions.
Check for the Authenticity of a Check
It is an unspoken rule, but you should never accept payment for an online purchase in the form of a check, especially one that indicates a larger amount than the selling price. Con artists use this technique to rip off unsuspecting people. The check usually takes a bit of time to cash, mainly because it is fake. You realize it was all a con; you will have already got a refund. You have to be extremely careful when dealing with checks. The bank might clear the check and credit the amount to your account to reverse the payment once more when they realize that the check is fake. In the end, you will incur the cost all by yourself. At times, you may end up applying for a loan to cover the losses.
Protect Your Personal Information
Con artists have devised elaborate schemes to gain access to your account number and password. Through "spoof" emails and text messages, they can send fraudulent emails that resemble those sent by the bank. Some even go the extra mile and make phone calls to unsuspecting customers pretending to be representatives from the bank or credit card company. They commonly request your banking details like the pin and account number. It is important to note that a bank will never request this kind of information from their clients. You should not continue to engage fraudsters as they might already have too much information to compromise the security features in place to protect your bank account.
In addition, if you are in doubt and want to check if everything is okay. You can look for your bank's contact information from a trusted source to confirm the claims made on the previous call. You can also make use of this opportunity to report fraudsters. In addition, you should guard your social security number properly. Anyone that has access to it can steal your identity and gain access to your bank account. They will also gain access to your medical records and other financial records.
Retract the Payment
Impulsive buying of commodities enhances your susceptibility to rip off schemes. Payments for such purchases are usually made using your credit card. It is important to note that you can dispute the debt on your credit card by contacting your bank, by writing a letter within 60 days of making the payment and by requesting your bank to retract it. Consequently, you can withhold the disputed amount. However, the rest of the other charges are deducted from your credit card. Your credit card company provides temporary credit for the disputed payment made.
Furthermore, the credit company reaches out to the offender to try and figure out who should get the money. This is after countless audits on the account to ascertain that the story checks out. If the credit company sides with you, you are relieved of any payments for the disputed charge and other associated charges.
Make Online and Mail Order Purchases Using Your Credit Card
It is important to note that a credit card is a better option than a debit card when it comes to fraud protection. This is mainly because credit cards run under different federal rules. As highlighted earlier, when you complain concerning an unauthorized charge on your credit card, the credit card company gives a refund while investigating the matter. The debit card does not provide you with the same privileges. You are also at liberty to demand a refund if your online purchase does not arrive or is defective. The online company is reluctant to provide you with an acceptable solution. It is also easier to track such transactions because they are recorded online.
Take Legal Action
The legal system is in place to maintain law and order. Therefore, by soliciting the services of an experienced lawyer, you could take the con artist to court to get back your hard-earned cash. However, it is a complicated matter because the rules and regulations that govern such cases vary across the country. Your attorney will take you through the plausible options.
Court proceedings take up a lot of time and resources. You should ensure that your case is a slam-dunk. However, the offender may decide to settle your complaint because of the fear of prosecution by the court over the offense and the tediousness of the litigation process. Access to an attorney is advantageous because the lawyer can write a letter to make a complaint on your behalf. Filing for a small-claims action will also suffice; you do not require the expertise of an attorney to file this. Nevertheless, if you get ripped off a large sum of money, hiring an attorney from a reputable criminal defense law firm increases your chances of getting back some of your cash. A huge chunk of your settlement is used to cover associated fees.
When the Deal is Too Good Think Twice
Most people are swindled out of their money because of discounts, offers, and free merchandise. You will find that in most cases, there is always a catch. People fall into this trap because they are obsessed with getting free goodies. If you take a step back and critically think about what you are getting, you will realize that you are entirely getting ripped off of your hard-earned money. For instance, you may get a product free of charge but have to incur the cost of handling and shipping it to your location. The catch is, when you are making payment for shipping purposes, the company can access your account information. The information is used to sign you up for monthly subscriptions. It may take you quite some time to realize what happened, and it gets worse because the unsubscribing process is tedious. Vet the service providers to establish the authenticity and goals of their organization. You will gather enough information that will help you in decision-making.
A money-back guarantee is an incentive used to compel you to make a purchase that you had not intended to make. Later on, you will realize just how frugal the company is when it comes to making refunds. The rules in place completely block your refund. The rules are usually unrealistic and impossible to comply with. For example, simply opening the package voids the refund guarantee, or you may be expected to cover the cost of shipping back the product to get your cash refund.
Examine links and Attachments
Furthermore, with the online craze and the over-reliance on smartphones, you might find yourself clicking on a link. Scammers use catchy phrases; their messages are a replica of those from the original organization that they are impersonating. The temptation to open these links and attachments is immense, but that decision also comes with its fair share of setbacks. Clicking on the links and attachments exposes your device to malware. It would help if you established that the attachment and link are from a credible source before opening it. The fraudulent links might lead you to malicious sites that allow crooks to gain access to your personal information, ultimately ripping you off and leaving your bank account empty. You should report such cases to your service provider and delete the link immediately to prevent further temptation.
Home Repair Swindles
Try to picture the hassle you have gone through to save your home improvement and repair project when looking for a commercial roofing contractor. The roof is an essential part of your house. Your roof is the first thing that anyone pulling up to your kerb sees. Therefore, the current state of your roof may either have a positive or negative impact on the aesthetic appeal of your house. This is dependent on how often you conduct inspections and maintenance runs.
Running an extensive background check on your contractor will save you time and money. You can do this by reviewing their website and getting feedback from previous clients. Going through his portfolio will also help. Holding them accountable also enhances their service delivery in terms of quality and them meeting the set deadline for completing the project. The contract should also be documented. This will help with the easy identification of any breach of contract. For instance, if the agreement indicates the contractor is supposed to apply asbestos abatement on your house and fails, this is a breach of contract. The continued release of asbestos fibers has a negative impact on the health of construction workers during home repair and construction projects. The contractor may also overcharge you for the services rendered and still fail to complete the project. All the measures above are best practices that protect you from home repair scams. Homeowners are encouraged to deal with contractors with glowing recommendations on the web or those they have worked with before. Do not compromise on the sanctity of your home improvement project by giving the job to unqualified and unskilled personnel.
Taking a step back and evaluating things from a different point of view will help you identify a scheme that will rip you off your hard-earned money. Considering all the facts presented and due diligence will save you a world of trouble. As such, following the above tips religiously will shield you from con artists and rip-offs.